Een van de dingen waar ik altijd het meest naar uit kijk zijn de huizen van de verschillende interieur bladen. Ieder huis is ingericht in de stijl van het betreffende magazine. Als eerste een wandeling door het VT wonen huis, het blad dat al jaren mijn absolute favoriet is .

———————————————-
101 woonideeën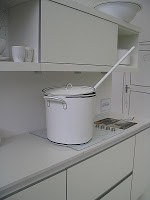 Some pictures of the annual exhibition for indoor and outdoor living, besides all the different styles of interior design. I really enjoy to visit the individual houses of the interior magazines. Just imagine wandering inside your favourite magazine. The first pictures are from VT Wonen, my all time favourite! And the last ones from 101 woonideeën… surprisingly they both had an all white atmosphere.

Quelques images de l'annuel exhibition d'intérieur et design. Ce que me plaît le plus sont les maisons designer par les magazines d'intérieur. Les premières sont du VT Wonen,. le magasin Hollandaise que me plaît du plus. Les derniers sont de 101 woonideeën.