The days folding room screens were just a necessary or functional solution are way behind us! Originally found in China in the 7th century they were mainly used by royalty, very heavy and ornate, and were not moved around. In the 8th century, the Japanese began using lighter, more portable room dividers for tea ceremonies, religious events and outdoor processions.
European travellers developed their own version of Asian screen dividers using wood, leather, silk, mirrors and decoupage. Folding room dividers are still used to offer privacy but also found their way into our homes in a more decorative form. Loving Japanese minimalism the minimal screens with only a few beautiful details are what I love most, two screens that caught my eye!
AKI Paravent
This unique object is entirely made to measure. A collectible design piece made entirely by hand and made to measure by textile designer Nathalie van der Massen and interior architect Charlotte Vlerick. The handwoven textile panels are made of an intricate linen, rubber and silk blend; while the frame is made from solid walnut, bent to exact precision. Perfect for your bedroom or living space or as a standalone eye-catcher.

In Amsterdam the screen is available upon request via The loft Every once in a while The Loft open the doors of The Loft for their Artist in Residence series were the design-duo from Antwerp showed and were interviewed about the the AKI paravent.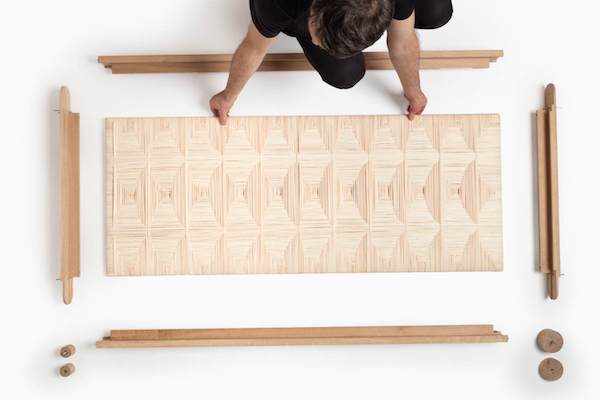 SL Screen by Surrounding Objects
Surrounding Objects created SL Screen, previously shown at Stockholm Furniture Fair (Greenhouse) 2020. Natural rattan screens were handwoven by master weavers in Indonesia over wooden frames produce in Surrounding Objects' workshop.
The patterns rendered in natural fibers are a nod to the
Stockholm Exhibition of 1930 where Sigurd Lewerentz created simple geometric wallpapers to be shown in 'single-family houses'. The screen acts as a room divider and dressing wall with simple hooks.
More information at Surrounding Objects