A few pictures of the inviting entrance of
'
De Weldaad
'
at the Noordermarkt
Situated in a former garage this shop has a bit of an industrial feeling. I really like the combination with the wooden floorboards, the furniture from French and Eastern Europe and the Scandinavian accessorizes.
This is a shop where a beautiful chandelier hangs next to an old factory lamp and a table made of galvanized Steel Pipe forms the base for antiques or unique items for your home.
This is also the shop I wrote about on 'A beach Cottage'. In case you missed it, here are some of the pictures I made of a cute little table I found in this shop. Sarah kindly posted them on her blog before.
'De weldaad'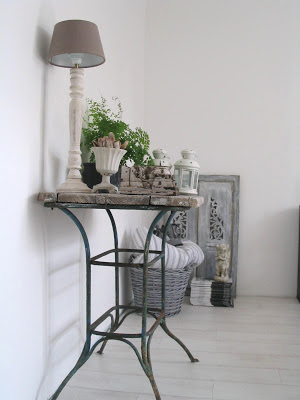 An old garden table in my bedroom
I white washed the wooden top
Rusty legs with faded blue patina
Een aantal foto's van 'De Weldaad' en haar uitnodigende entree. Deze grote winkel op de Noordermarkt is gevestigd in een oude garage en heeft daardoor een beetje industriele uitstraling. Samen met de houten vloerplanken en de meubels uit o.a. Frankrijk een mooie combinatie. Dit is het soort winkel waar je een prachtige kroonluchter ziet hangen naast een industriele lamp en waar op een tafel van steigerbuizen antiek en ander moois voor je huis staat.
Het tafeltje op de andere foto's heb je misschien eerder op 'A beach cottage' gezien', waar Sarah zo vriendelijk was om ze te plaatsen. Het is gekocht bij De Weldaad en ik heb het wat witter gemaakt met Kalkwas.
Des photos de l'entree de 'De Weldaad' ou j'ai trouver ce jolie table