Sunday mornings… I don't know about you but I love to sleep in on weekends. A slow start with coffee, reading magazines and a little scrolling through Instagram and blogs, I love it! This last weekend with the first snow fallen in Amsterdam and that special light you only get to see peeking through the shutters when everything is white outside was no exception, it was extra cozy to stay in a bit longer.
With the current lockdown and plenty of time left, as we have no where to go really, I take it slow. Like most of us I keep myself busy with small projects around the house. I had new plans for my kitchen where I wanted to install another 
Dimplex
Optymist Cassette 500. Unfortunately I still suffer from a shoulder injury since a fall last month and because I can barely lift or do anything with my right arm, I had to postpone that project and changed plans which I love to show you today.
I have always loved how fire affects my mood, it calms me down and for me seeing the moving flames is something that makes me really happy and I find super cozy. I literally could have a fireplace in every room… so I changed my plan with the result that on this winter morning I can also turn on a cozy crackling fire in the bedroom. Unfortunately photographing did not went so easy either especially with the light coming in from the window, but I hope you get a good impression anyway.
The Optymist Cassette, like I showed you last month in my living, have a look at this post if you missed it: 
An electric fireplace for my home, 
is really versatile and there are endless options on how you could build in the cassettes. The small construction I made in my living has a really light and minimal look which I love, and the bench is really solid and can be used as an extra seating option. A really good concept to build on and use in my bedroom as a temporally solution with some leftover wood from earlier projects!
In contrast to the living room where I painted walls with the beautiful Little Greene paint, not much has changed in the bedrooms except for the new wooden floor. In here I kept my previous favourite and more industrial style, such as the original concrete walls combined with pure white. Perfect to combine with a similar DIY project as in my living room in pure black.
For those who are not familiar with the 
Dimplex Optimyst Cassette 500
: this electric fireplace produces flames made of pure water vapour and LED light, giving a soft red glow. The model does not give of heat, and you can even touch the flames while creating that cozy feeling including the sound of a real fire. If you only love to see the flame effect, the sound can also be switched of. Suitable for installation projects and designed to fit into a custom-made frame or fireplace. It is also available in larger sizes, you can see some more details in my in my Instagram stories, in the 
Dimplex highlight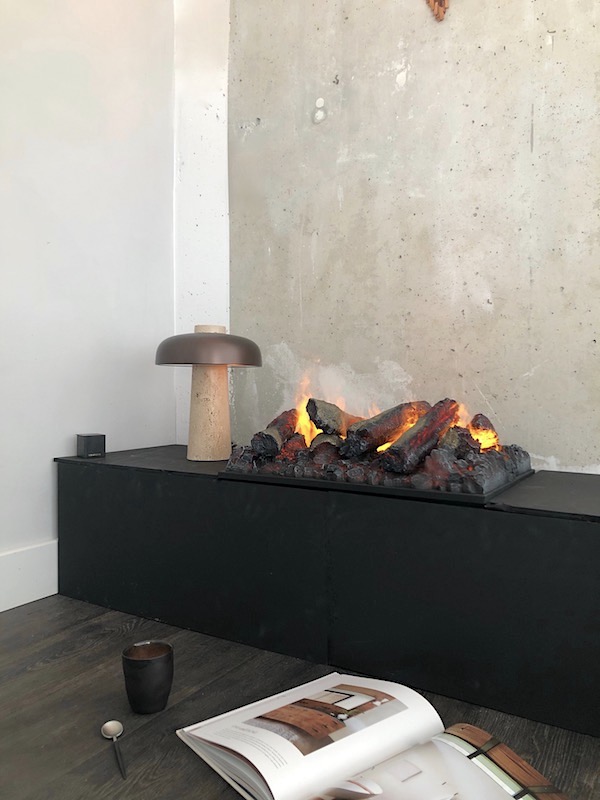 Written in collaboration with Dimplex
Images © vosgesparis