Although you already saw some pictures we made in my kitchen for some collaborations earlier. I made a few more to show you my latest treasure, the 'Divar' lamp from Anour. With a worktop extractor, which I would highly recommend in case you are building your kitchen, I had to think of how to illuminate the worktop and this part of my kitchen that is painted in black.
I love to keep the wall free from kitchen cabinets or cluttered shelves and with a relatively low ceiling already I didn't want to lower it any further in order to build in some spots. After seeing a picture on Instagram off a kitchen with a likewise 3 meter worktop and the Divar lamp by Anour I had to have a closer look at the different materials and possibilities. 
Anour collaborates with specialized craftsmen called "brazier" [workers in brass] at their own workshop, which I showed on the blog last month: A new showroom for Danish lighting brand Anour With their own workshop the brand has the opportunity to create very specific material finishes and turn copper, brass, steel, aluminium, wood and marble into custom lighting for customers and bespoke projects. 
Initially I could have chosen a matching brass finish, I loved to see the material with my own eyes though and see how the different finishes would match with the rest of my kitchen: the wooden cabinets by Norm Architects for Reform

Copenhagen and the black Kelya worktop by

Cosentino

. I think it is important to see and feel materials and what finish you are most attracted to once you have them in your hands, for me decorating my home has all to do with emotion and what makes my heart jump.

After looking at the different samples, it didn't take me long to go for 'Browned brass'. A finish that looks sophisticated with the black wall painted in colour 'Amsterdam' by Studio AnoukB and adds a sparkle at the same time. Besides perfectly made and finished I love the minimal look and soft light that shines both up and down and of course the dimmable function which I love. Also the finish of the lamp is versatile enough to also fit a lighter painted wall beautifully.

Sustainable & honest handmade products
The recent pandemic that we are in made it even clearer that we need to return to a simpler and more sustainable society. Honest handmade products, skilled craftsmen and professionals and production closer to home. Also in my own house I try to take this into account as much as possible and prefer buying a handmade product over mass production.
The fact that Anour collaborates with craftsmen in their own workshop is something I really appreciate, according to an interview I read, only a handful of official material finishers (braziers) are left in existence in Denmark. The finishers are the heart of Anour – They are the ones that shape the materials to obtain the perfect patina, suiting the lamps and light, to give the best look to blend with a specific room – And it's all done by hand. Limiting the number of lights made, preserving the authenticity of the product and the story that comes with
For me personally it also meant I got all the answers to my questions and help including understanding the electricity connections needed and the option to adjust the length, good and clear communication is certainly something I love.
This however is not the only way they set themselves apart from the rest, for Anour, it has been important to work with materials that allow the buyer to enjoy their product for a lifetime. It is a showdown against the ever-hungry consumer society that buys, consumes and discards. It's about the tactile approach to materials. And embracing the ageing process of materials as value rather than a negative.

Minimalism and trends
I feel lucky to have added this lamp to my kitchen and the fact I didn't make quick decisions but chose a well thought design made by hand. It felt rather special to receive an email saying they started making my lamp. Anour produces to order – which means that no material will be wasted on stocking up a product which might never sell.
I personally love minimal design and Anour as a brand perfectly fits my ideas on how to decorate my home. I like simple lines and shapes without (to many) unnecessary features. Loving minimal spaces with only the bare essentials for me always go hand in hand though with the longing for friends around the table filled with plates and bottles, good food and the warmth of candles and soft lighting.

My taste developed over the years and it is no secret I love metal furniture, as it is timeless, I believe that only pure and natural materials can age with me over the years. And as Arash, founder of Anour says: "Design trends are often temporary, and they usually come at a high price for our planet's material resources. That is why we rely on evergreens within our material library. Consciously working with simple forms in order to allow the materials to shine."
"These precious materials don't come cheap, and some of our lamps can seem expensive – but our uncompromising approach is based on high standards, we exist to create lamps that are so simple in design that they become timeless Icons. Carefully manufactured and constantly improved to get better and smarter " Great design is about eliminating the noise, by reducing objects to their absolute essentials. I'm constantly searching for the source of purity and perfection in my work."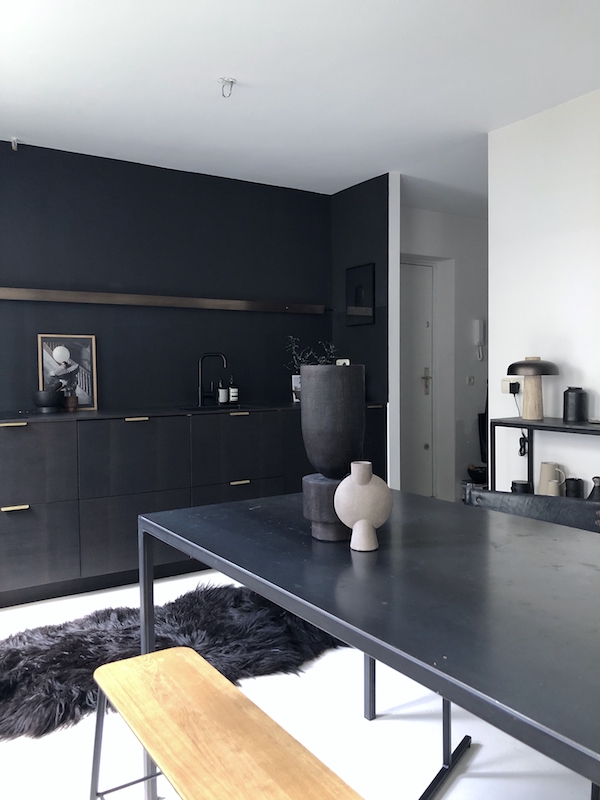 Reintroducing the value of simplicity is the first thing you see when looking at the website of Danish Design lighting company Anour and I couldn't agree more. I have been following Anour for a few years and wrote several blogs about them before, never this personal though and funny thing I discovered, in my very first post back in 2016 I selected the Divar as my favourite of the collection. 
Founder and Architect Arash Nourinejad graduated in 2007 and launched Anour.dk to showcase his portfolio while working as an architect for kitchens. The first 'I model', now a fundamental part of the Anour brand, was made as an accessory to compliment a bed he had crafted at his home during a renovation back in 2012. After showing the lamp at a furniture fair in Copenhagen Arash started exploring the whole lighting range, fulfilling customers dreams thanks to new unique materials, variety of sizes and opened his own workshop in Copenhagen. 
With many leftovers from producing the I model, and demands from customers asking for different shapes of suspension lamps above home and office tables, the company designed different models resulting in a carefully curated collection. When introducing the first table lamp in 2017 also wood was introduced as a new material for the I model, currently available in Oak, Black Stain Oak and Walnut. Recently also a new table lamp was introduced which I showed you in my home here for the first time. 
I love how my kitchen is coming together finding the perfect details over time and cooperating with beautiful brands and Studio AnoukB for the first floor and wall choices and as a perfect sparring partner and friend. Next I will be working on finishing some small details, and finding a beautiful carpet and new window coverings and maybe even a 'fire' place or different table to make the kitchen even a more cozy part of my home.
Written in collaboration with Anour