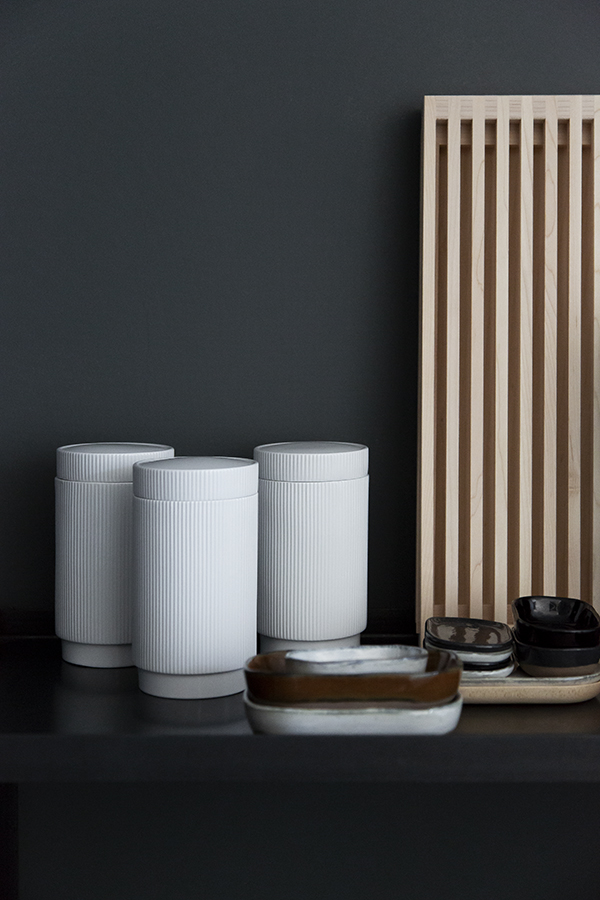 How is December treating you so far, are you busy with your Christmas preparations or planning a warm vacation to escape winter? In case you are still looking for a Christmas present that you could use all year around, as I do think we should only buy things that will last, I love to introduce these Storage Jars to you.
Although at first sight you would think they are made out of metal, like most of them we know, the bulthaup Storage Jars are made from a high-quality porcelain and if you have a closer look, you will notice some great details, I just simply love the base!

We got to capture them together together with the other bulthaup accessories I wrote about earlier and used the twentyfour centimeter high jars which are perfect for regular storage of any kitchen supplies you use, like flour or cereals. Next to the 24 cm heigh jar they are also available in 16, and 8 cm height, perfect for any other storage solution you are looking for.



Bulthaup kitchen accessories
I really think it is important to surround yourself with not to many but beautiful kitchen accessories, tools you actually use and are nice to look at as well. This is something I really believe, and I loved working on this series of blog posts for bulthaup.Their products are high quality and like everything I write on the blog about fit my blog aesthetics and personal style.

Here's a roundup of our former work for bulthaup, I hope you enjoyed learning more about the brand through my blog posts and the images we created with w/ Style. Happy Christmas shopping!


bulthaup b Solitaire at home | w/ Style
bulthaup accessories | w/ Style photo shoot
Basic kitchen essentials for everyday use
Autumn cooking & spices | w/ Style
Ceramic storage jars for a clean look
An eye catcher for your kitchen | Bread container by bulthaup
bulthaup b3 | Personalize your kitchen to perfectly fit your home
And don't forget to check our w/ Style @withstylenu instagram account and portfolio for more images.
This post is written in collaboration with bulthaup Nederland
Concept
w/ Style
| Photography Wen van Woudenberg | Styling Desiree Groenendal